James Hervey Baber 1780-1819


Notes taken from the Index of the Oriental and Indian Collection of the British Library.
---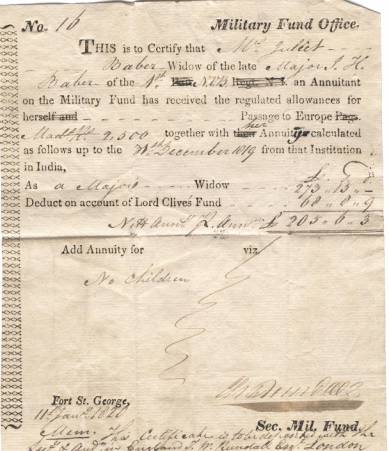 James was born on July 25th 1780, St Jamesís Day[i], at Slingsby in Yorkshire probably at the home of his motherís family the Berrimanís.
This is believed to have been the Old Rectory, which still stands behind the church. During the same year his father Thomas Baber moved the family down to Stamford in Lincolnshire.
James had two older brotherís Henry and Thomas Hervey Baber. In 1782, the elder boys were boarded at Mr Broughtonís School at Stamford. This enabled James and his parents to move onto London.
The family probably lived at New Ormond St, as in 1789; Henry Baber records the family moving from New Ormond Street to Red Lion St. Clerkenwell on September 18th 1789.
On 25th April 1789 James began to learn music, although on which instrument is not recorded. His eldest brother Henry began to learn to play the violin in the following year, taking 24 lessons from a Mr Simms, so it is possible that the violin was the instrument that James had been learning.
Life at home may not have been very easy for young James, as his parents parted on September 9th 1794. Jamesís father was a Barrister, and he seems to have moved the family to No. 9 Great Shire Lane on Sept. 16th 1794. Elizabeth Baber had moved to Greenwich, by March 1796.
During the same year, Thomas, Jamesís brother set out to Bombay to become a Writer, in the East India Company. Henry was away at Oxford University. James had a younger brother John Baber who had been born in 1783, and who went to Abingdon School.
We donít know which school James went to, but he was at the Woolwich Academy by 1796, which may be why his mother had moved to Greenwich. On August 5th 1797 James is recorded by Henry as having left Woolwich. Woolwich was the training college for Artillery and Engineer Officers.
The Napoleonic Wars were raging in Europe, and soldiers were needed in large numbers.
During January 1798 Henry recorded that: -
ď James was appointed Cadet in the East India Companyís service at Madras.Ē
On the 23rd of April 1798 James sailed for Madras in the Good Hope East Indiaman, under the command of Capt. Hilton.
We do not know which Regiment James joined first in India. By 1815 he was in the 16th Regiment of Native Infantry. A Directory of 1815 dates his rank in the Regiment from 10 June 1806, and his rank in the Army from 13 March 1805.
During August 1815 he is recorded as being ďon furloughĒ, and as this extended through November 1815; it is possible that he may have returned to Britain. By August 1816 he was back with his Regiment. In 1816 he is described at Captain James Hervey Baber. On 31 March 1818 he was promoted to Major in the same Regiment. By 1819 he was Senior Major.
However he must have become ill, as he was invalided on 30th April 1819, and died on the 27th November 1819 at Fort St George at Madras.
We donít know when he was married. His wife was called Juliet, and we know they had had no children, as the only remaining document we possess is a certificate from the Military Fund Office to cover her passage to Europe and to ensure that she received her annuity of ď205 6s 3d.
I can find no record of what became of poor Juliet Baber. She doesnít appear anywhere else in our papers.
If you were able to add any details to the material above I would love to hear from you. I can be contacted at nicholas.balmer1@ntlworld.com
Copyright Nick Balmer September 2002.
---
[i] Henry Hervey Baberís Memoranda relating the life of Henry Hervey Baber. A handwritten volume, giving a page to each year.
---
Email me if you can correct or add to any information on this page.
Please include the URL address from the window at the of top your browser.
Contact Baber Family Tree Return to Home Page


License of Limited Use: License is granted for you to use Content only for personal family history research, and you may use Content only as search results relevant to that research. The download of the whole or significant portions of any work or database is prohibited. Resale of a work or database or portion thereof, except as specific results relevant to specific research for an individual, is prohibited. Online or other republication of Content is prohibited except as unique data elements that are part of a unique family history or genealogy. Violation of this License may result in legal action for injunction, damages or both.
© Copyright 1997-2019. Baberfamilytree.org