Edward Baber's London Home. 1611
By Nick Balmer
---
For most of us with Baber forebears it is generally believed that our ancestral home land was in Somerset and the Bristol area. This appears to be only partly true, for London seems to have played a very important part in my ancestor's life. For from the earliest times we were moving off on a journey that would lead to most parts of the world.
Many of the earliest known Babers were lawyers and trained at Lincoln's Inn in London. They would have had to make frequent journeys to London as their careers developed, and as they attended to court cases. Interesting evidence is emerging that they may have also gone to London to trade in wool.
Recently I have come across the following leads, which help illustrate the beginning of this travelling. On the 18th February 1928 a magazine called "Notes and Queries" published a letter from Hugh Beaver. He wrote "The earliest date I have found the name in parish of St Pancras Soper Lane, witness the following":-
Extracts from the Register of St Pancras, Soper Lane.
| | |
| --- | --- |
| 1565 | Kathere Baber, Witness to a baptism |
| 1605 | Edward Baber, Witness to a baptism |
| 1605 | Robert & Katherine Baber, twin son and daughter, to Robert Baber, Baptised 26 Dec, Witnesses, Lady Marie Williams Godmother; William Quarles, Lady Katherine Leigh, Lady Katherine Bond. |
| 1612 | Mary Baber, daughter of Edward Baber, Baptised 3 December, Witnesses Mr Mai… Bonde, Lady Mary Wilbraham, Lady Mary Mountayne. |
| 1614 | Edward Baber, Son to Edward Baber, Baptised 17 April, Witnesses, Doctor Baber, Thomas Pardine, Lady Winyfrithe Bond. |
I had some difficulty at first in locating St Pancras church, Soper Lane in London. This church has no connection with modern well-known area around the nineteenth century St Pancras railway station, which is well outside the boundaries of the seventeenth century City of London.
Soper Street has also disappeared from the modern map of London because the church was one of those destroyed in the Great Fire of London in 1666.
Soper Street does however appear on the Copperplate map of circa 1553 to 1559. This confirms its location as being along the line of the present day Queens Street, in London EC4. This north south street was one of the roads opened out in the aftermath of the great fire, in order to ease congestion in the cramped medieval street plan. The actual church of St Pancras has disappeared. However there is still a Pancras Lane that runs at right angles to Queens Street.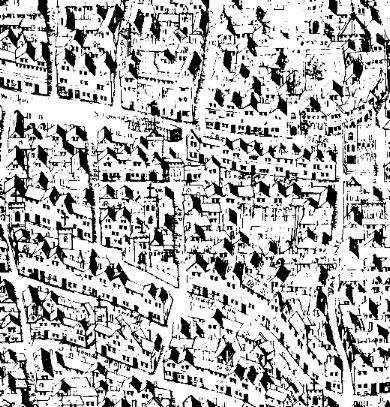 To view the Full Size Image Click Here
I am unable to draw arrows electronically on the map. I hope that the following text will enable people to find the location.

To locate Edward's house take the board street located two thirds of the way up the left hand edge of the plan. This is Cheapside. "Walk east (to the right) along the street, as you come up to the conduit and water sellers in the street, look for the turning on your right. This is Soper Street (modern day Queens Street). Walking down Soper Street, take the first turning on your left, into Needlers Lane (modern Pancras Lane). On your left you can see St Pancras church, it has a wide arched doorway. The tower is surmounted with a small spire and an enormous cross.

It was in this church that the various christening took place. Come out of the church, facing south (down the map). Look across the street, and immediately in front of you is the entrance to the long passage which is shown on Treswells plan.

Edward's house is in the middle of the block, bounded on the west by Soper Street, on the north by Needlers Lane, and on the south by Watling Street, which becomes Budge Row. Watling Street, was one of the main Roman Roads, and can be traced all the way to the North West of the country.

You will see that the block, which is longer on the eastern side than it is on its western edge, has two church towers. The one at the bottom of the block, with the low wall in front of it is St. Antholm, whose tower stands against the road. Immediately to the west of the tower is a low brick wall. This wall is I believe that shown at the bottom of the Treswell plan. The second tower in the centre of the block is mentioned in Keene's book as a three storey tower or garret. It stands in Baber's property, and is probably a survival of its earlier medieval use.

To get to Robert and Sir Thomas Leigh's property, walk back up to Cheapside. Immediately north of the conduit (the box like structure in the centre of the street) is a large building, Mercers Hall. This is the Guildhall for the Mercer's who were the men who controlled the
woollen market. England's main manufacturing industry, and the source of most of England's foreign exchange at this time. Go to the eastern end of the building and turn north into Old Jewry. Robert's house is immediately behind Mercer's Hall on your left. Sir Thomas Leigh's house is about 20 yards upon your right.

For those who are not familiar with London, these streets are immediately to the south of Cheapside and Poultry Lane, which form the main thoroughfare between St Pauls Cathedral and the Bank of England. In Elizabethan and Stuart times, Cheapside was the principle market street in London, and was used for ceremonial parades including the Coronation of Queen Elizabeth, in 1559. The parish was one of the smallest in London, and I began to wonder if it was possible to locate the actual house that they lived in.
In trying to locate house I have had the most extraordinary luck. I have stumbled on a book edited by John Schofield "The London Surveys of Ralph Treswell", published by the London Topographical Society in 1987. This book on page 106 has a copy of a plan taken from "Evidence Book", volume 4; of Christ's Hospital, who owned the house leased in 1611 by Edward Baber. I believe this is same the Edward Baber shown above.
The house has a recorded history stretching back to the late 13th Century. Christ's Hospital a large charity bought the property in 1602 from an Arnold James, brewer, with £500 bequeathed to them by Peter Blundell. Schofield goes on to describe how a lease of 1611exists which shows details of the interior, from which it is possible to reconstruct the house.
Schedule,1611
Mr Baber: (2) A chamber over the kitchen, with a chimney on the E side 42' x 13' ½" with a house of office in it on the E side and a little void room with a passage out of the same chamber on the NW corner into one other chamber with a chimney, and a door into a little study, which chamber being next the yard on the W side 18' ½" N-S x 17' ½" E-W and out of that is a door into another chamber at the NW corner over the warehouse 24' 9" x 11' ½"; a little square room 9' ½" x 8' 8" next the little yard; A chamber over the long hall with a chimney and a door and portal of wainscot 27' x 17'; A little chamber over the buttery at the N end of the same chamber wholly ceiled with wainscot 131/2', with a stone wall, X 7' 3"; next the little yard is another chamber next the new yard wholly ceiled in wainscot, about 16' x 11' ½", with a passage up and down to the other rooms; Another chamber with a chimney next the said yard 23' 9" x about 17'.
A chamber next the new yard with a door and portal of wainscot 17' x 14' within the walls; A garret on the same floor 16' ½" x about 8' ½"; Another garret next the same 15' 4" x 15' 9"; Another garret adjoining the same, of the same measure; One other garret next the new yard 14' x about 18' ½"; Another garret 18' ½" x about 13' 9"; also a lead adjoining the last mentioned garret, being on the E side, of the same length x 3'(GL MS 12935).
From inspection of the plan it is possible understand the description. The wide dark grey wall running up the western side of the plan is though to be a stone wall possibly part of an earlier building and probably medieval in origin. The red coloured walls shown to the south are though to be brick, and to be newly built to separate Baber's property from Mr Jackson's property. To the north are two neighbours Mr Halles, and Mr Crewe. A narrow path leads to Nedelers Lane, which is now known as Pancras Lane.
The house leased by Edward Baber appears to be a domestic building around a yard or courtyard built open to the sky. It has two parlours, one with a large brick fireplace built into the old wall. It has a fine window facing his garden. We are very lucky to have this detail, as there are very few house plans in existence at this date. About 53 plans of houses by Treswell exist, and only three show details of the windows.
Very few other house plans of this period survive.
A passage probably with columns to the north of the yard gives access to a number of warehouses. These appear to open on to a yard running up to the passageway out the street. Schofield believes that the five dots in the yard denote columns that support a roof over the space between the warehouses.
The property has also been studied by Dr D. Keene and V. Harding, in their Historical Gazetteer of London before the Great Fire; volume1. Cheapside (1987). They number the property differently from Schofield as 145/15A, these numbers would not have existed in the early 1600's and are for ease of reference only.
Edward Baber apparently succeeded a Thomas Thorowgood, a draper in 1603. Leasing the property from Christ's Hospital who had bought the freehold in 1602 out of £500 bequeathed to them by Peter Blundell, from Arnold James a brewer. Baber paid £21 6s 8d rent per annum, which was a very considerable sum at the time. (A bricklayer would earn about 12d per day, so at 12 pence to the shilling, and 20 shillings to the pound, this would be the equivalent to 424 day's wages for a bricklayer.)
In 1607 Baber, whom Keene describes as a citizen and a draper sought a new lease in his own name. Following a view of the property in 1610, it was agreed that certain rooms and part of the garden from an adjoining property worth £6 13s 4d a year should be added to Babers house. He should also be granted a lease for 31 years at £21 6s 8d a year in return for a fine of £110 and a future expenditure of £100 on new buildings or repairs. A new lease was granted in 1611 that stipulated that £110 was to be spent within the first 7 years on building or repairs.
Edward Baber is recorded as paying rent in 1612, but by 1615 he appears to have left, as from 1615 to 1625 a Robert Crewe paid the rent.
Having established the location of the property I visited the site, which has been entirely redeveloped. A new building is currently being built over the whole block of property. The site access was in the line of the northern path that runs to "Nedelers Lane". Directly opposite is a small garden and a plaque marking the site of St Pancras church.
I then sought to tie the register entries to the property, and our known family tree.
I believe that "Kathere" Baber is Katherine (died 10th March1600/01) daughter of Sir Thomas Leigh and Alice Leigh nee Barker. Leigh was a Mercer and Lord Mayor of London in the year of the coronation of Elizabeth the First on January 15 1559, and who lead the procession through the City of London. She was married to Sir Edward Baber Sergeant at Law (1531 to 1578).
Edward Babers stepmother Elizabeth Cross had property in her will in King Street Westminster.
I believe the Edward Baber in the register above of 1605, is the son of Sergeant Baber. An Edward Baber was a signatory to the Third Charter of the Virginia Company on March 12th 1612. He later re-married (circa 1635) a widow called Mary Strachey, (nee Cross, 1605 - 1671). She had been married twice before, to a Samuel Jepp, then to Sir William Strachey who was 1st Secretary to the Virginia Company, and travelled out to Virginia in 1607/1608. His account of the voyage, and shipwreck, is supposed to have inspired Shakespeare's The Tempest". They leased Sutton Court a large property, belonging to the Earl of Newcastle on the outskirts of Chew Magna in Somerset. Strachey died in 1634, his widow then married Edward Baber who was dead by 1642. Mary Baber then bought Sutton Court, probably with the moneys left by Edward Baber. I believe Edward Baber had three wives, his first Wife was Mary Pardine (see Thomas Pardine in the register of 1614 above.) (sometimes spelt Paradyn), the mother of Mary and Edward. This son Edward may not have lived long. His second wife by about 1622 was Frances Erdington, and his third and last Mary Strachey nee Cross.
A family tree for Edward Baber Serjeant at Law, and his family down to 1623, which confirms the above, was published by the Harleian Society in 1876. "The Visitation of the County of Somerset in the year 1623."
The Robert Baber baptised in 1605 seems to have gone eventually to the Virginia colony in America, where I believe he has many hundreds of descendants today.
I believe Lady Katherine Leigh is the niece of Katherine Baber (nee Leigh), but I am not certain. Lady Katherine Bond may be the wife of Sir James Bond, prominent London Merchant who built ships in 1611.
The Lady Mary Wilbraham in 1612 is the daughter of Edward Baber Sergeant at law, and Edward Babers sister who married Sir Roger Wilbraham. Sir Roger was Solicitor General for Ireland from 1585 to 1603, and came from Cheshire.
I am descended from the Doctor (John) Baber (1564 -circa 1628), listed above as a witness, who was a Doctor of Divinity, Rector of Tormarton in Gloucestershire, and Vicar of Chew Magna. He was presented with the living of Chew by Katherine Baber in 1589, and was presumably visiting the family for the Christening.
Why if Edward Baber only leased 3-4 Pancras Lane in 1603, were Baber's already using the church for Christenings by 1565? They must have other had other property nearby.
I wrote to Dr Keene at the Centre for Metropolitan History, Institute of Historical Research, in London. He directed me to two new properties in Old Jewry, which is a lane immediately to the north of Cheapside. These houses are less than five minutes walk away, even allowing for crossing the modern roads. These houses listed as 105/22A-D and 105/21G are in the Parish of St Mary Colechurch.
Sir Thomas Leigh lived on the east side of the street about 20 to 30 metres up from the junction with Cheapside. He was already living in this house in 1547. Sir Thomas Leigh died in 1571, but his wife Alice only died in January 1604. (Did her imminent death spark Edward's leasing of Pancras Lane property?) Sir Thomas Leigh senior, had a second son also called Sir Thomas, whom was active at this time being made a Baronet in 1611, and dying in 1626.
A Robert Baber rented a property also on Old Jewry on the west side. It was about 10 - 20 metres to the north of the junction with Cheapside at the beginning of the 1600's.
I have been trying to locate evidence or records that would give any indication of trade from the building? The plan by Treswell shows extensive warehouses. Edward Baber was however a lawyer, as can be seen in Volume 2 of "The Black Books of Lincoln's Inn" published in 1897 by Lincoln's Inn. Why would you rent a house with warehouses if you don't intend to use them? Perhaps he was involved in both the law and trade?
I ask about trade because parts of the family have links with the woollen trade, which then seem to have lead to involvement in merchant adventuring, and privateering. A contemporary of Edward called William Baber (possibly a cousin) was illegally manufacturing gunpowder in Bristol from about 1609 until the outbreak of the civil war. He became the major supplier to the Royalists until 1644. Dr John Baber's son married the grand daughter of Paul Bayning, the London merchant, (Specialising in trade to Venice), Alderman in 1595, and Privateering promoter. Edward Baber was involved closely enough with money to have "adventured" monies in the Virginia Company
Could Edward have been both carrying out both trade and a legal practice from 3-4 Pancras lane?
Was he only trained at Lincoln's Inn before going into trade.
It has not been possible so far to find an actual picture of the properties. I have however found an illustration by Wenceslaus Hollar dated 1643 called Winter. It is one of a series of four prints showing the four seasons, with four women in different costumes, ages and stations of life. The etching for winter shows a Lady in front of a street that is clearly Cheapside. The Lady is heavily covered with fur wraps, and has a fur hat that comes down around her face. She has a dark veil or mask very similar to that worn by present day Arab women in the Gulf States. It covers her eyes and nose, but not her mouth, with two apertures for the eyes. It is thought that she is a prostitute and as such represents the decay of Winter. The fact that she is clearly set in Cheapside must have been because this area was known for this activity at the time. A nearby alley just to the east of Edward's house is shown in Keene's book above with the name Grope (Censored Word) alley.
INSERT WINTER HERE. (Still working on Photo for this Location)
The background to the drawing shows lean to stalls or shops set against the walls of substantial houses. This type of property is clearly shown on the plan of Edward Baber's house. The property to the west of Edward's eastern stone wall appears to have been of this form.
Different versions of the drawing are dated from about 1641 to 1643, so we may have an indication of why the family moved out to Convent Garden, the new up market address and development. Overcrowding was leading to an increase in disease long before the Great Plague of 1665.
John Stow in his book A Survey of London, written in the year 1598, which is still in print provides further glimpses of what the area around our ancestral London homes was like. He uses Soper Lane at one point to illustrate how the different trades moved around the city of London over time. In much of Medieval Europe a particular area of a city would be given over to perhaps shoe making. If you wanted to by meat you went to the Butchers street. In London as in many European cities many streets bear names derived from the name of the trade originally carried out there.
"Men of trades and sellers of wares in this city have oftentimes changed their places, as they have found their best advantage. For whereas mercers and haberdashers used to keep shops in West Cheap, of later time they held them on London Bridge, where partly they yet remain. The goldsmiths Gutheron's Lane and Old Exchange are now for the most part removed into the south side of West Cheap, the pepperers and grocers of Soper's Lane are now in Bucklesbury, and other places dispersed. The drapers of Lombard Street and of Cornhill are seated in Candlewick Street and Watling Street; the skinners from St. Mary Pellipers, or at the Axe, into Budge Row and Walbrook."
In the years immediately before Edward's lease, Stowe describes what appears to be the a location where day labourers would assemble every morning in the hope of obtaining casual work.
"labourers every work-day are to be found in Cheap, about Soper's Land End;"
Stowe also describes the encroachment onto the street of the lean to shops, as shown above. He also offers a glimpse of an old lady who was probably a familiar site to our forebears. Perhaps this is where Mrs Baber got her herbs.
"Now let us return to the south side of Cheap Ward. From the great conduit west be many fair and large houses, for the most part possessed of mercers up to the corner of Cordwainer Street, corruptly called Bow Lane, which houses in former times were but sheds or shops, with solers &127;' over them; as of late one of them remained at Sopar's Lane end, wherein a woman sold seeds, roots; and herbs; but those sheds or shops, by encroachments on the high street, are now largely built on both sides outward, and also upward, some three, four, or five stories high".
Of the properties lived in by Robert Baber and Sir Thomas Leigh in Old Jewry, I have very little information. Stowe does however have the following;
"Now of the north side of Cheap Street and ward, beginning at the great conduit, and by St. Mary Cole Church, where we left. Next thereunto westward is the Mercers' Chapel, sometime an
hospital, intituled (sic) of St. Thomas of Acon or Acars for a master and brethren"
The full text describes how this hospital founded by Thomas A Becket's father was taken over at the Dissolution of the Monasteries by the Mercers.
"and was purchased by the Mercers, by means of Sir Richard Gresham, is again set open on the eve of St: Michael, 1541" "It is now called the Mercers' Chapel Therein is kept a free grammar school,"
There were in the church;
"many monuments remaining, but more have been defaced"
These were those destroyed in reign of Edward VI when most of the destruction of monuments in English Churches occurred, Oliver Cromwell gets a bad press, but his men only wrecked what little was left.
"James Butler; Earl of Ormond, and his countess, 1428; John Norton, esquire; Stephen Cavendish, draper, mayor 1362 Thomas Cavendish; William Cavendish; Thomas Ganon, called- Pike one of the sheriffs 1410;"
The list goes on and near the end is;
"Sir Thomas Leigh, mercer, mayor 1558;"
This area was the centre of the Mercers activities, and was no doubt why Sir Thomas Leigh lived here. I believe that Sir Edward Baber Sergeant at Law made an extremely good marriage when he got the hand of Sir Thomas Leigh's Daughter.
In the British Museum I have found a copy of Sir Edward's Grant of Arms dated 1574. This is a page of tightly written text that copies his original Grant of Arms. It has a sketch showing the coat of arms as seen on his tomb at Chew Magna. Unfortunately read the entire text, but Edward is described as coming from of Rogelbury in the Co of Somerset. This is the farm shown on my previous article. A relatively small property.
Sir Thomas Leigh was the son of Roger Leigh from Wellington in Shropshire. He eventually became rich enough to buy Stoneleigh Abbey in Warwickshire in 1561, from William Cavendish, who was a co-heir to the Duke of Suffolk. The monastery had been leased at the Dissolution to Richard Lord Grey in February 1538 for 21 years. It was then sold to Charles Brandon, Duke of Suffolk.
Sir Edward's son Edward Baber who lived at Pancras lane married Elizabeth Strachey, who brought Sutton Court near Chew. Edward Hutton writes:
"There is another visit to be paid from Chew Magna. This will bring us to Sutton Court. Several places, all demesnes of the manor of Chew Magna, stand up against the high land to the east of the Chew; there is Bishop's Sutton, so called because it belonged to the Bishops of the diocese, there are Sutton Wick and Sutton North.
Sutton Court was anciently in the possession of the great family of St. Loe. In Leland's time the fine old manor house of the St. Loes here was evidently one of his stations in surveying the county. He made several excursions thence. The St. Loes continued to hold the place till Sir William St. Loe, captain of the Guard to Queen Elizabeth and styled chief butler of England, settled it, with other possessions here-about and in Gloucester, upon his wife the celebrated Bess of Hardwicke. 'This lady had four husbands ; her second being Sir William Cavendish, by whom she had six children.
By Sir William St. Loe she had no issue, and therefore she gave the greater part of the estates she had from him to her second son, Charles Cavendish. Charles Cavendish had a son William, who afterwards became Earl of Newcastle. He held Newcastle .for Charles I, and eventually became Duke of Newcastle. But he was on the losing side. His lands were confiscated by the Commonwealth and Sutton Court was purchased in trust by Elizabeth the wife of Edward Baber of Chew for the use of her son.
He died without issue and she settled the place upon John Strachey, her stepson by her second husband."
Did Thomas Leigh introduce Edward Baber to the Cavendish family. Perhaps the Baber's acted in a legal capacity for these powerful families? This may have enabled them to accumulate enough money to buy the Sutton Court property outright.
If you have visited this site for what ever reason, and can add anything to the above information I would love to hear from you. My e-mail is nbalmer.netcomuk.co.uk
Any mistakes in the above are purely my own, and I would welcome any corrections of fact that you may be able to offer. I would like to thank Joe Baber, Vera Baber Dr Keene, John Schofield, and the staffs of the Baldock Library, British Museum and Guildhall Libraries for their help in preparing this article.
Contributed by Nick Balmer
Email Nick Balmer
---
Email me if you can correct or add to any information on this page.
Please include the URL address from the window at the of top your browser.
Email Joe Baber Return to Home Page


License of Limited Use: License is granted for you to use Content only for personal family history research, and you may use Content only as search results relevant to that research. The download of the whole or significant portions of any work or database is prohibited. Resale of a work or database or portion thereof, except as specific results relevant to specific research for an individual, is prohibited. Online or other republication of Content is prohibited except as unique data elements that are part of a unique family history or genealogy. Violation of this License may result in legal action for injunction, damages or both.
© Copyright 1997-2014. Baberfamilytree.org